ELECTRONIC THROTTLE VALVES
Electronic Cruise Control allows a desired speed (engine rpm) to be maintained with the simple press of a button. Once activated, the rider does not have to constantly apply the throttle. This reduces stress on the right hand when traveling long distances, enabling relaxed cruising and contributing to a high level of riding comfort.
ELECTRONIC CRUISE CONTROL
Kawasaki's fully electronic throttle actuation system enables the ECU to control the volume of both the fuel (via fuel injectors) and the air (via throttle valves) delivered to the engine. Ideal fuel injection and throttle valve position results in smooth, natural engine response and the ideal engine output. The system also makes a significant contribution to reduced emissions.
Electronic throttle valves also enable more precise control of electronic engine management systems like S-KTRC and KTRC, and allow the implementation of electronic systems like KLCM, Kawasaki Engine Brake Control, and Electronic Cruise Control.
K-ACT (KAWASAKI ADVANCED COACTIVE-BRAKING TECHNOLOGY) ABS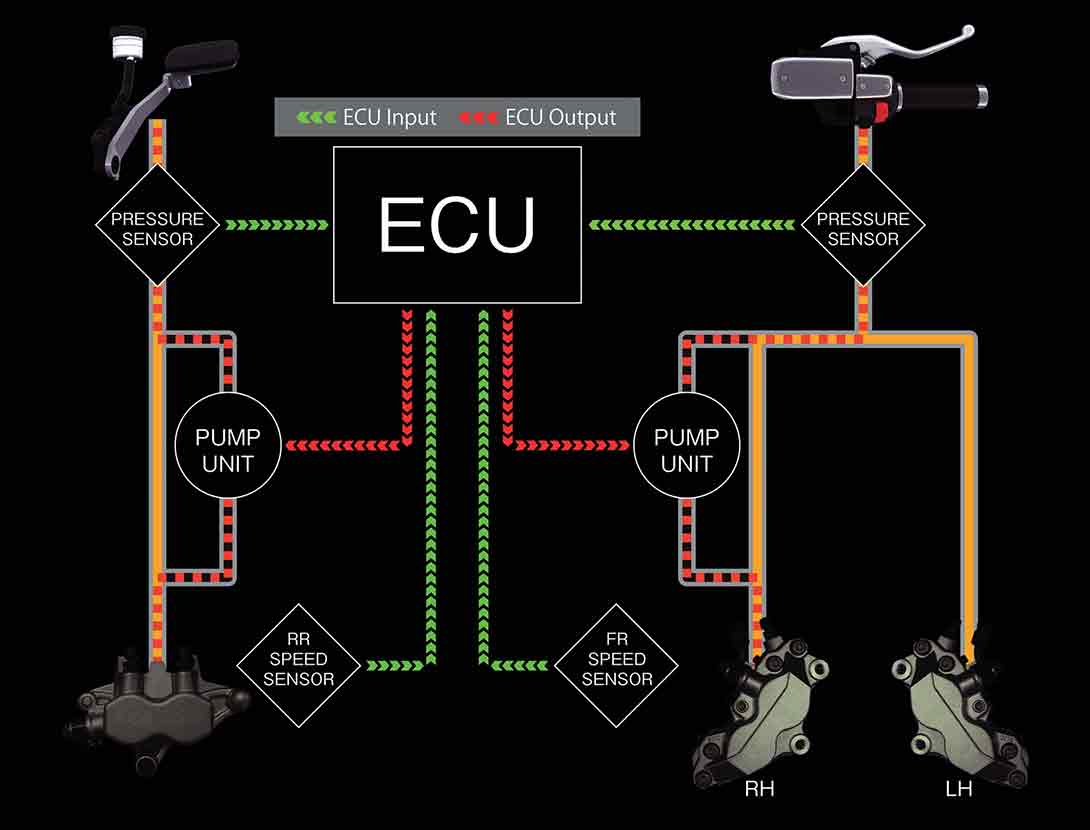 At its heart, K-ACT ABS is an advanced anti-lock braking system, designed to keep tires from locking up during braking. But K-ACT ABS was designed to be used on touring models weighing in excess of 300 kg (661 lb) – and that is before adding a passenger and luggage.
Complementing its standard ABS function, K-ACT ABS links the front and rear brakes. It monitors the brake force the rider is exerting at both the front and rear, and takes into consideration vehicle speed to ensure highly effective braking while maintaining chassis stability.
For example, let's say the rider pulls on the front brake lever. To keep the bike from pitching forward, the ABS ECU actuates the rear brake (via fluid pumps) to ensure that front-rear balance is maintained. Should the rider push the rear brake pedal, the system actuates the front brake as well to distribute the load more evenly so that the rear wheel does not lock up. Based on the vehicle speed, K-ACT decides the optimum hydraulic pressure to send to each caliper, ensuring that even with a heavy motorcycle, stable braking performance is possible.