Engine & Drivetrain
Championship pedigree
Re-imagined, re-engineered, re-energized. Making the 2021 MX1 Triple Crown winning 450 even better required major changes to just about every component, with the result being a bike that's lighter, more powerful, better handling, and even easier to ride fast.
Razor-Sharp Cornering
3 lb. lighter thanks mainly to a revised frame and subframe. The frame and swingarm's rigidity balance, combined with tighter chassis geometry and suspension update, all help to create optimal cornering performance. And that leads to faster lap times for the CRF450R/CRF450RWE.
Feel The Power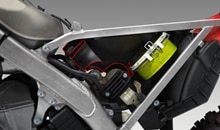 A significant increase in peak power above 5,000 RPM is accompanied by stronger low-RPM torque feel, thanks to a larger airbox feeding a 46 mm throttle body that improves intake efficiency and makes active use of latent vaporization in the inlet ports. The injector angle has been radically changed — to 60 degrees from 30 degrees — spraying fuel all the way back to the butterfly valve, which improves intake efficiency, throttle feel, and cooling of the charge.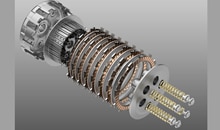 Hydraulic Clutch
Big power requires a strong clutch, and this bike delivers with a smooth-operating hydraulic clutch. Ditching the cable improves consistency, control and feel at the lever (lever pull is now 10% lighter). Clutch capacity has been increased by 27% with an extra plate and spring to maximize power transfer and durability. To top it off, clutch slip has been reduced by 85% at peak power.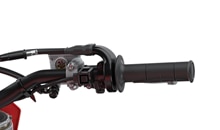 Electric Start
Kickstarting? Maybe if you're riding in the vintage class, but not here. By ditching the kickstarter entirely, our engineers were able to make a light bike even lighter. Electric starters and lithium-ion batteries are so light now and so good that putting them on a bike like this is a win/win combination. And winning is what a CRF450R-series bike is all about.
Honda Selectable Torque Control (HSTC)
Honda Selectable Torque Control (HSTC) works to minimize rear wheel spin (thus wasted forward drive) and maximize traction. It doesn't use a wheel-speed sensor, and, importantly, maintains feel at the throttle while managing power — ignition timing and the PGM-FI system are adjusted when the rate of change of rpm goes over a set amount. With three settings plus off to choose from, you can have your bike dialed no matter how much traction there is.
HRC Launch Control
We're talking about a special ECU program here: push the button to select the mode, hold the throttle open, release the clutch, and the bike will do the rest, launching you into the first turn with a big advantage.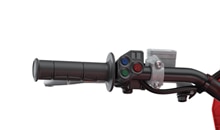 Engine Mode Select Button
This simple handlebar-mounted button lets you dial in engine power delivery character with a push of your thumb. Choose between Standard, Smooth and Aggressive, depending on track conditions.
Chassis & Suspension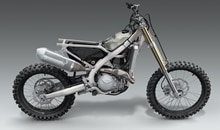 Strong, Lightweight Frame
With direct input from the HRC race team, the twin-spar aluminium frame has been thoroughly revised for 2022 to reduce weight and to help elevate every aspect of its cornering ability. Thanks to narrower main spars and a redesigned subframe, it is significantly lighter than its predecessor. Chassis dynamics are also new — while torsional rigidity is maintained, lateral rigidity has been reduced by 20% to increase corner speed, traction, and steering accuracy. The aluminium swingarm has a new rigidity balance tuned to match the frame, with narrower arms and pivot point, plus a revised Pro-Link® ratio.
Oval Exhaust Ports
Big changes to the 450 cc Unicam engine's exhaust ports. As with the CBR1000RR-R Fireblade, their exit is oval rather than round in shape for improved efficiency, and the twin exhaust design of the previous model has been replaced by a single downpipe and muffler, saving a full 1.24 kg (2.7 lb.). The downpipe also tucks in 74 mm closer to the centre line, improving rider ergonomics.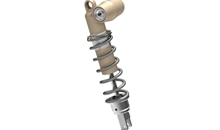 Improved Suspension
Fully adjustable, the 49 mm Showa USD coil-spring fork is a version of the Showa 'factory' fork supplied to race teams in the Japanese championship. For smoother cornering performance, the fork has been revalved, stroke lengthened by 5 mm, and the axle clamps' rigidity increased. The Showa rear shock's main piston valve has been enlarged for faster response and improved bump absorption; its spring also uses one of the world's lightest steel, saving 200 grams.
Additional Features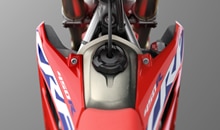 Titanium Fuel Tank
Grams and performance count, and to keep the weight down, the fuel tank is constructed of titanium. Light and strong, it's also thinner than our previous plastic unit, freeing up more space and helping to centralize fuel mass.
Lighter and ergonomic
The seat is shorter, lighter, and 10 mm lower at the rear to aid freedom of movement. It's also much easier to remove and install. Overall, the bike is slimmer by 70 mm to make it feel and act even more nimble.