Engine & Drivetrain
Strong power & torque
For even better performance, the NC750X's liquid-cooled, parallel twin engine boasts increased power and a 600 rpm higher redline for 2021. Numerous advanced and patented technologies help to deliver exceptionally strong low-rpm performance for strong acceleration and ease-of-use in the city, and a relaxed character on the highway. The engine's unique design creates a muscular, easy-to-use powerband not unlike that of a big-bore cruiser.
Distinctive sound and feel
To give the engine a satisfying and distinctive sound and feel, engineers thought way outside the box. An extra balancer shaft was added to inject the engine with just the right amount of "good" vibration. The effect of the twin balancers is to counteract vibration from higher rpm inertia, making the engine feel more refined, yet still with the distinct "throb" delivered by its 270-degree firing order. The intake-port layout inside the cylinder head was carefully designed to create an intentional interference between adjacent ports, which results in subtle combustion variations. In addition, the timing for the opening and closing of the intake valves was set differently for each cylinder. The result of all this? An engine that always lets you know what it's doing and has a pleasant sound and feel.
Choose manual or DCT shifting
The NC750X is available in two versions: with a six-speed manual transmission, or with Honda's sporty DCT transmission, which allows both paddle-operated manual operation and four levels of automatic shifting. DCT even senses whether the bike is travelling uphill or downhill and selects shifting points and engine braking accordingly. Plus, Adaptive Clutch Capability Control assists in on/off throttle situations, reducing pitching motions for smoother riding. With the six-speed manual transmission, wide gear ratios complement the engine's powerband so there's no need to be constantly shifting up and down to maintain strong performance. Revised gear ratios for 2021 — shorter for the lower gears and higher for the top gears — improve both around-town and highway-cruising performance.
Upgraded HSTC
Adding a third level in the NC750X's Honda Selectable Torque Control (HSTC) system allows even finer rider-adjustable control of rear-wheel torque. HSTC lets you choose the amount of allowable rear-wheel spin — some spin on gravel or dirt, for example, or no spin on slippery roads. It's a great feature that helps make the NC750X even more versatile.
Throttle By Wire
Throttle By Wire gives you another way to tailor the NC750X's performance just the way you like it. Now with 3 preset modes — Rain, Standard, Sport, plus one rider-adjustable mode. Mode selection is managed between the left-hand switchgear and the LCD display.
Exceptional fuel economy
Through the use of friction-reducing technologies, integrated components (such as running the water pump off the camshaft), precise PGM-FI electronic fuel-injection, and efficient combustion, the NC750X engine delivers exceptional fuel economy.
Slipper clutch
The NC750X's slipper clutch reduces lever load by 20% and helps to manage rear-wheel lockup under fast downshifts.
Smaller can be better
The engine's efficient use of fuel enables the use of a smaller-volume, more-compact fuel tank that still allows ample riding range while giving engineers extra freedom to re-think the optimal placement of other components.
Maximum purification efficiency
The exhaust catalytic converter sits directly beneath the exhaust ports and is activated early when the engine starts. This design lets the combustion gas pass through the catalyst while it is at its hottest, thereby maximizing purification efficiency.
Chassis & Suspension

Tuned flex for a smooth ride
A full 6 kg lighter for 2021, the diamond-shaped steel-tube frame was carefully designed to be sturdy while also allowing just enough flex to respond smoothly to changing road surfaces. This results in a smooth ride while also letting you feel what the bike is doing. You get comfort when you're just cruising, and a sporty, fun ride when you're on your favourite twisty backroad.
Lower seat height
A lower seat height for 2021 improves the NC750X's upright and neutral riding position, with a high viewpoint for enhanced hazard perception. Another advantage of this adventure-style riding position is great low-speed control — combined with the low centre of gravity and generous steering lock, the result is exceptional low-speed handling and balance.
Showa fork
A Showa Dual Bending Valve fork (SDBV) performs much like a high-end cartridge fork, providing similar smooth action and linear damping force, but at a lighter weight. The result is superior road holding and ride comfort, plus reduced front-end dive under braking.
Aggressive tires
Cast aluminium front and rear wheels carry 120/70 ZR17 and 160/60 ZR17 tires.
ABS power and control
Anti-lock Braking System (ABS) provides added confidence during sudden stops or when the road is wet or slippery.
Economical design
Specially designed wave-style brake rotors not only keep unsprung weight low, they also require less energy and use less material during production because the rear rotor fits precisely inside the front rotor, allowing them to be stamped out of a single sheet of stainless steel at once.
Additional Features
Excellent weather protection
The NC750X shows off its edgy styling with a sleek new front cowl design and tall windscreen for improved wind protection, plus venting to reduce pressure and turbulence. The result is a bike that's comfortable when cruising at speed, no matter what kind of weather your adventure takes you through.
Maximized weight distribution
The 14.1-litre fuel tank is accessed beneath the seat at the rear of the bike, with the fuel stored beneath the rider. The tail cowl has been cut short to bring the mass forward, and handy grips have been integrated into the tail section for passenger security.
Even bigger hidden storage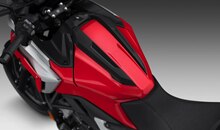 Where the fuel tank would be on most bikes, the NC750X instead has a lockable utility compartment that's even bigger for 2021 — now big enough to fit an adventure-style helmet. This handy compartment allows you to quickly stash your helmet, gloves and more out of sight.
New LCD display
The 2021 NC750X boasts an all-new full-colour LCD instrument display, which includes an indicator showing which riding mode you've selected via the switch on the left handlebar.
LED lighting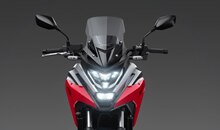 All-LED lighting guides the way clearly and looks great.
Wave-style key
Wave-style ignition key is stronger and provides extra security against theft.